The best smart home devices will turn your dumb home into a smart hub, one that can turn on lights when you enter a room, lock your doors for you, or play music with a simple voice command. 
Setting up your smart home can be as basic as putting a smart speaker in your living room, or as complex as an intricate network of connected devices. Really, making a smart home is up to you, and you can personalize it to your level of comfort.
But wading the waters of smart home products, which fall into dozens of categories, can be daunting. And because smart homes rely on components being able to communicate with one another, before you stock up your shopping cart with all the latest and greatest smart home gadgets, make sure they're compatible with any other smart devices you already own including your phone, tablet and any smart speaker you already own. 
To help you start your smart home journey, or complete the technology-laden home of your dreams, we've curated a list of eight gadgets that we believe are the best smart home products you can buy.
Here are our recommendations for best smart home devices to get your existing house, apartment or other domicile up to speed:
Choosing the best smart home ecosystem
Before you start assembling your smart home, you'll want to think about which smart home ecosystem you'll want to build off of. There are quite a few out there, including Apple HomeKit, Google Home/Google Assistant, Samsung SmartThings, the Amazon Alexa platform, IFTTT, ZigBee, Z-Wave, and more. 
Lots to chose from, right? We've put together a guide to help you consider what you need to when putting together your smart home, which you can check out here.
You'll also want to consider the ecosystem that you're already plugged into. For example, avid Android owners might have more luck with Google Home than with the Amazon Echo or Apple's HomePod. On the contrary, those that need quick and easy ways to order things online might prefer the Amazon Echo.
Want to see even more smart home recommendations? Check out our comprehensive guides to different product categories below:
Now, let's get into our list of the best smart home devices, starting with…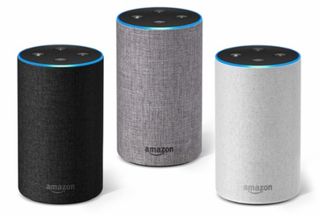 Best smart speaker: Amazon Echo (2nd Gen)
A better fit for your stylish smart home
New look
Low price
Great new Alexa features
More of the same
The second-generation Amazon Echo speaker is at the top of our list for good reason. Amazon's original Alexa-powered speaker has become the first smart home product for millions of people around the world. This sequel is even better.
It's affordable, yet stylish, with new fabric finishes to fit your home. And Amazon is always upgrading Alexa, especially now that the Apple HomePod and Google Home are directly competing with the Echo speaker family. 
The Echo integrates with your Amazon account, after which you can ask it to do things like order food, and, of course, control your other smart home devices – making it a super useful addition to your smart home devices list. On top of that, it's well-designed and should suit any home.
Read the full review: Amazon Echo (2nd gen)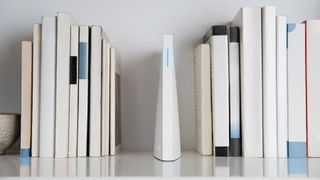 Best smart home hub: Wink Hub 2
HQ for your smart home command center
Wide device support
Stylish design
No USB or backup power
While most smart speakers these days can act as a smart home hub, you might not want to go the smart speaker route – and if not, then a smart home hub can be a seriously helpful way to tie together all your smart home devices. That said, perhaps the best choice of smart home hub is the Wink Hub 2. 
The device is great for a number of reasons, namely that it supports a huge range of standards – including Z-Wave, ZigBee, Bluetooth, Wi-Fi, Kidde, and Lutron Clear Connect. It also works with Amazon's Alexa, and IFTTT. Perhaps the only downsides are that the device does not have any USB ports or backup battery power, both of which appear on some other hubs.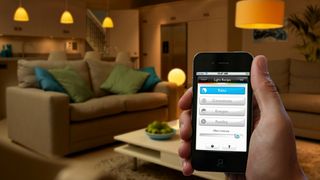 Best smart light bulb: Philips Hue
iPhone-controlled lightbulbs, anyone?
Widely supported
Easy to install
Excellent app
Somewhat expensive
One thing that you might want to do as soon as you decide to make your home a smart home is switch out the light bulbs – something easier said than done considering how many different options out there. Of them all, however, we think the best smart light bulbs are Philips Hue range of smart bulbs.
If you opt for Philips Hue bulbs, you will need to get the Philips Bridge, which is kind of like a hub for your lights. The advantage, however, is reliability, and the fact that the system is compatible with a range of different standards and home control systems including Apple HomeKit, Nest and Samsung SmartThings.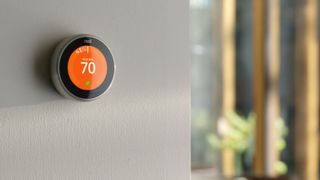 Best smart thermostat: Nest Learning Thermostat
The superhero your smart home deserves
Elegant design
Easy to use
Helps save money
Takes some work to install
Automating your heating and air conditioning can be a great way to save time and money, and there are a few great smart thermostats out there. 
Perhaps the most famous and, in our opinion the best, is the Nest Learning Thermostat. As the name suggests, Nest gets to know your habits and adjusts accordingly – meaning it'll switch off when you don't need it, which ultimately saves you money.
On top of its great features, the thermostat also looks stylish, and offers an extremely easy-to-use interface – which is an important thing to consider.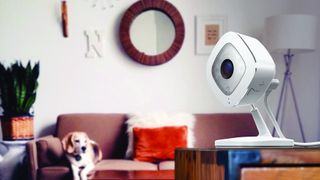 Best smart security camera: NetGear Arlo Q
A well-made and smartly designed security camera
Free cloud subscription
Nice app
No local storage
No ethernet port
Home security is an important thing to consider, and there are a ton of connected security cameras out there. One of the best is the NetGear Arlo Q, because of the fact that it has a nice design and reliable motion-detection that starts recording when it detects an object moving about.
If you buy the camera, you'll also get a free basic 7-day cloud recording service, and you can access that recorded footage through the accompanying app – which is excellently designed. There are a few downsides, however, which include the fact that the device does not store footage offline, and doesn't have an ethernet port – an annoying caveat if you have a spotty Wi-Fi connection.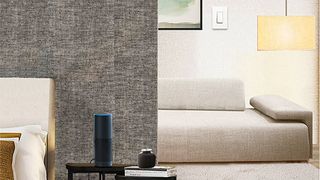 Best smart switch: TP-Link HS200
Turning on and off your lights has never been easier
Easy to install
Very nice design
Bulky
You may have decked out your home with smart LED bulbs, like the the Philips Hue, but if you have to get up every time to turn them on and off, what's the point? 
Enter smart switches like the TP-Link HS200. This lovely switch may be connected, but it also gives a satisfying click, so you can *pretend* it's an old-fashioned switch, if you like. 
The TP-Link HS200 taps into an app called Kasa, which is equally well-designed. From the app, you can create different scenes that turn on or off certain lights, or set lights to turn on when your home's motions sensors detect movement, for example. 
It connects to Google Assistant and Amazon Alexa, so you can use your voice to command your lights on and off. 
Read the full TP-Link HS200 Smart Wi-Fi Light Switch review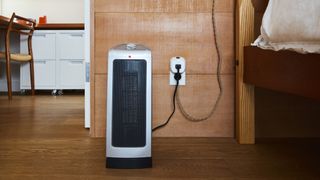 Best smart plug: Belkin WeMo Insight
An excellent smart plug that monitors energy usage
Good energy monitoring
Solid smart home integration
App is poorly designed
The Belkin WeMo Insight Smart Plug is more than just a way to control devices plugged into it. It's also a way to monitor your energy usage, and get estimates on how much powering certain devices in your home is going to cost. 
This is great if you're trying to save some money and be a bit more energy conscious. While the plug is a bit on the bulky side, you may be able to live with it for all the dollars/pounds you save on your monthly energy bill. 
The app could use some work, but all-in-all we have been thoroughly impressed with the Belkin WeMo Insight Smart Plug. It also connects to wide range of smart home platforms, from IFTTT, Alexa, Google Assistant, Works with Nest and (unofficially) Samsung SmartThings.
Read the full Belkin WeMo Insight Smart Plug review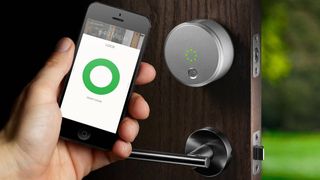 Best smart lock: August Smart Lock
Good compatibility
Nice and strong
Automatic features
No Wi-Fi support
We mentioned security before, but a security camera is only helpful if someone has already broken in to your house. You also might want to prevent that from happening in the first place, which is where come into play. The best smart lock is the August Smart Lock, which can attach to your existing deadbolt.
The lock is also compatible with Apple's HomeKit, Nest and IFTTT – so it should easily connect to your other smart home devices. 
Using the lock, you can do things like lock and unlock the door from your phone, say to let friends and family into the house when you're not home, and have it automatically detect when you're nearby, so it'll unlock without you having to put down all the groceries.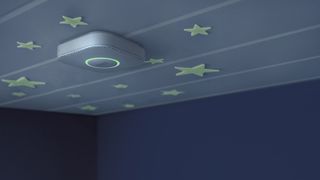 Best smart smoke detector: Nest Protect
Very subtle design
Easy installation
Works well with other Nest products
Basically a regular smoke detector
Nest doesn't just make great smart thermostats: it also offers smoke alarms, which can connect to the rest of your smart home. That said, the Nest Protect looks great, and it offers great connectivity through Wi-Fi and IFTTT. 
Using the Nest Protect you can make sure that you'll always be aware if there's a fire, even if you're on the other side of the world. The accompanying app is  well-designed and easy-to-use … though hopefully you won't have to use it.