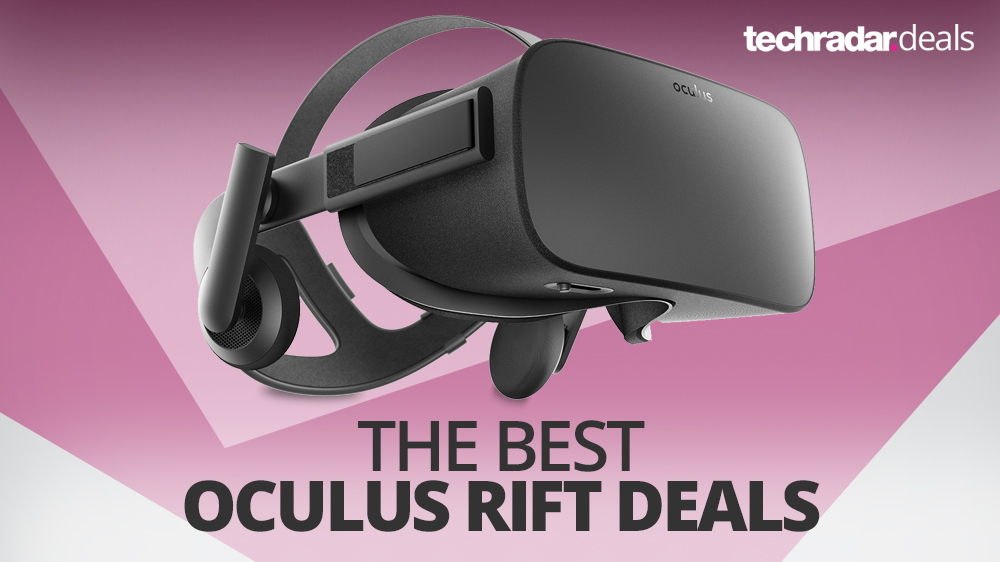 The Oculus Rift virtual reality headset is one of the premier VR devices on the market. Better than the technology behind it is the Oculus Rift price, which has been permanently reduced and is now bundled with the Oculus Touch controllers in the UK and US. Hopefully it'll come down even more on Amazon Prime Day.
In the box, you'll find the Oculus Rift headset, two Touch controllers, two Oculus room sensors, all the cables you need to connect it, and seven free VR apps, including popular title Lucky's Tale, Quill and Robo Recall.
When looking for an Oculus Rift deal you should double check you're getting one of the newer bundles with the Touch controllers and you're not paying any more than $399 in the US and £399 in the UK.
Every deal listed on this page is for the current retail version of the Oculus Rift. So don't worry about ending up with a dev kit version (Dk1 or Dk2) early build. You can find a few of those around the net, especially on eBay, but be warned, many of these are the earlier versions, made available to early adopters or developers. We'd stay away from them as they're not the refined finished product available at your favorite retailers and they probably don't come with controllers either.
Looking to upgrade your PC gaming setup further? Check out our best monitor deals.
Oculus Touch controller deals?
Oculus Touch is a pair of motion-controllers with buttons that provide a more intuitive way of interacting with select games. The controllers come bundled in with most Oculus Rift deals, and certainly those sold by official retailers. 
The controllers, which let you interact with VR games and apps in an intuitive way, originally cost a rather steep £190/$199 for the pair, essentially bringing the overall cost much closer to the HTC Vive VR setup. On the plus side, they've been reduced to a much more attractive £99/$99, making them an essential purchase if you've already bought the headset and don't have controllers already.
How much does the Oculus Rift cost?
In the UK, the original recommended price was £549 and $599 in the US. Thankfully, it's recently been reduced and you can now pick one up for £399/$399. Feel free to bookmark this page though to keep an eye on the best Oculus Rift prices as they are updated daily to reflect the best online Oculus Rift deals out there.
Will my PC run Oculus Rift?
That's a good question, and certainly one to ask before splurging out on the virtual reality lid for your rig. Handily, there's a neat Oculus Rift compatibility tool you can try via our very own Downloads section.
If you're starting out from scratch and want to build your own Oculus Rift ready rig, check out TechRadar's article below.
Can I use the Oculus Rift on the PS4 or Xbox One?
Not on either so far. Sony has its own headset with PlayStation VR for the PS4, so we're not expecting Oculus Rift compatibility any time soon. As for Oculus Rift on the Xbox One, it's also a no, but with a potential 'maybe' further down the line. Oculus teamed up with Microsoft to include a PC/Oculus-compatible Xbox One controller with the retail release of the headset, so there's already a relationship to potentially build on. Microsoft's HoloLens VR/augmented reality headset has been very quiet of late and hasn't really been pushed as an Xbox One headset, leaving plenty of room for speculation that the Oculus Rift will make it's way to the Xbox One.
Can I use Oculus Rift on my phone?
Get out. Oh, you must be confusing the Oculus with the Samsung Gear VR. Samsung's headset is far cheaper and is made for mobile apps, rather than full-fat PC experiences. Well worth a look though if you have a compatible Android mobile phone. As things stand, your phone would probably melt faster than the sets-on-fire-for-fun Galaxy Note 7 if you tried convincing it to even look at an Oculus Rift.