No-one predicted the meteoric rise of gaming on iOS, and we're not sure anyone knew what the iPad was for at all when it first appeared.
However, Apple's tablet has become a very able gaming platform. With more screen space than the iPhone, games have the means to be more immersive. The iPad's therefore a perfect platform for adventure games, strategy titles and puzzlers. 
Not sure which iPad is best? We've got them listed on our best iPad ranking – or you can check out the best tablets list to see the full range available now.
But, just like the iPhone, there are so many iPad games that it's tough to unearth the gems and avoid the dross. That's our mission here – to bring you the very best iPad games, mixing traditional fare with titles that could only have appeared on a capable and modern multi-touch device.
New: Helix (US$2.99/£2.99/AU$4.49)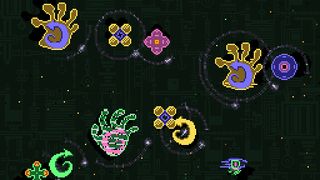 Helix has the appearance of a rough-and-ready 1980s arcade game. Your character, a chunky blinking eye, scoots about as adversaries rapidly appear from screen edges. The aim is survival, but fortunately you can do more than dodge (albeit less than shoot).
Move around an enemy and a line begins to encircle them. If the line is closed, the enemy explodes, giving you some breathing space. Some enemies require more orbits, or for you to encircle them in a specific direction, and that's about it.
But Helix's simplicity isn't to its detriment. This is a focused, brilliantly conceived arcade blast that's ideal fodder for iPad. The touchscreen controls are responsive, the lurid visuals are captivating, and the hard-as-nails gameplay has that one-more-go factor that will have you clamoring for more.
Watch the video below for our 48hr review of the new iPad (2018)