It's been ten years since Android was announced, and what a decade it's been. But there's never been a better time to jump on board, as the Google Play store has exploded in recent years, with a proliferation of apps that can cater to your every need.
The problem is: there are just too many of them, even with Editor's Picks, Featured and Best Selling, Top Paid and Top Free categories there to help.
There are things you can do to filter the winners from the wannabes. Google builds a list of apps it recommends for you based on your previous downloads, so that's often a good place to start.
You can also filter by new releases if you just want to see the latest things to hit the store. Or, if you want something similar to an app you already have, search for that app and see what comes up.
And of course using user reviews and ratings is an essential part of ensuring the apps you download are high quality. But the easiest (and best) way to find top quality apps is to have someone else do the searching for you. 
What's the best phone of 2018? Check out our video countdown below!
And that's why we made this list. Like you we want the best apps for our Android phones. The apps that are going to revolutionize functionality or, at the very least, offer something so great that it becomes one of the must-have apps that has to be downloaded whenever you get a new handset.
The following apps will be constantly updated and are a mixture of paid and free ones that have been chosen by our Android experts. So, even if you do dip into actual cash for one of these apps, you are safe in the knowledge that it is a worthwhile purchase.
New this week: CARROT Weather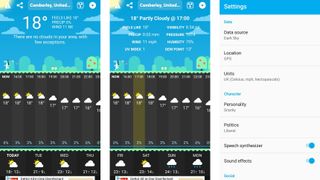 Free + optional US$3.99/£3.39 yearly subscription
After a long stint on iOS, CARROT Weather has finally come to Android, and if you like a dose of snark with your forecast it's worth getting excited about.
Because as well as providing accurate forecasts powered by Dark Sky, CARROT Weather is home to an 'AI' that insults you and revels in your weather-related misery. This takes the form of more than 6,000 lines of dialogue, each of which can optionally be spoken aloud by its synthetic voice.
With cute illustrations as well and even a game that sees you following clues to hunt down secret locations, CARROT Weather has more personality than any rival app.
It's also good for the important matter of telling you the forecast, as you can see hourly and daily forecasts, complete with humidity, UV Index, wind speed and more.
The core app is free, but for US$3.99/£3.39 per year (or US$0.99/£0.89 per month) you can unlock a customizable widget, animated satellite maps, and get rid of adverts.